REMOTE WIRELINE SERVICES has been providing safe, cost-effective and proficient services to the Canadian energy industry since 1996. Senior management are comprised of industry veterans, each with well over 30 years of specialized wireline service knowledge.
REMOTE's service fleet includes both truck and off road capable units including our unique ultra light slickline systems. With strategically placed field service bases and a staff of industry trained specialists, we have the equipment and service capabilities to handle all types of wireline service requirements across the Western Canadian Sedimentary Basin. Our bases are equipped with a wide selection of plugs and tools for servicing operations including Baker, Otis and other style downhole production and completion equipment.
We offer complete bottom hole pressure / temperature data acquisition services including our surface read out (SRO) real time systems available with web based data access using our WELLTAP system. In addition, we have BHP instrumentaion rated to 300 deg C, ideally suited for SAGD operations.
Recently, REMOTE is pleased to offer CASED HOLE wireline services.
As of 2011, REMOTE is a majority aboriginal owned and operated business.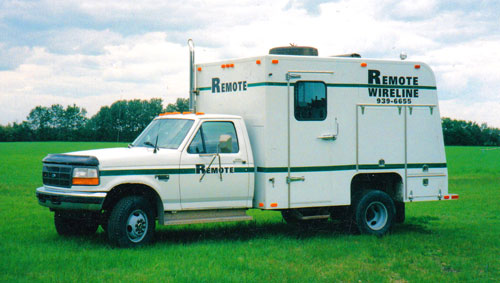 Humble beginnings: Remote Wireline Unit # REM1 (1996).
---